Do you want to host "Movie Night" at your house? Why try to cram all your friends onto your living room sofa… when you can create your own backyard movie theater?
Backyard theaters are not only great for watching movies with lots of friends, but kids camp-outs and birthday parties, watching football games and more. You can even set an outdoor movie screen on a protected porch or patio and use it for entertaining all summer long. You may never visit a movie theater again!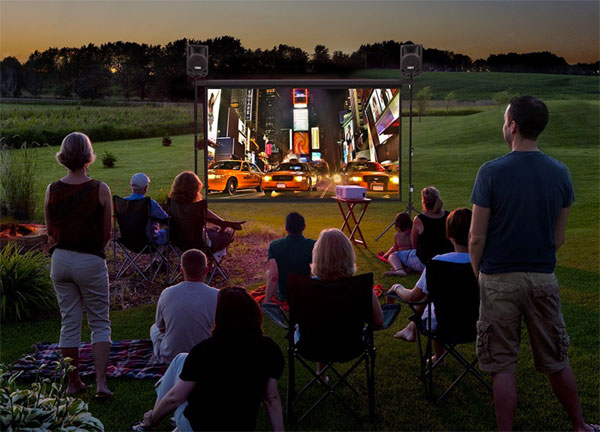 Backyard Theater System w/ Projector, Screen, Speakers & WIFI Blu-Ray Player
There are basically 4 parts to consider when creating your own outdoor movie theater:
The Movie Projector
The Sound System
The Movie Screen
The Movie Player
There are several ways to design your backyard movie theater, and this will usually depend on your budget, the space available and equipment you may already have. According to CNET, you can successfully take on this project, even if you are on a budget.
The Cheap DIY Backyard Movie Theater:
If you already have a projector, want to buy equipment separately or simply want to save some money, here are some ideas. Get a portable outdoor movie screen for less than $150. It measures 120″ (diagonal), quickly assembles/disassembles and weighs less than 10 lbs.

So… you could even take it on camping trips, evening barbecues or tailgaters, friends' houses, special events, etc.. It can also be used indoors.

Good quality indoor-outdoor speakers don't have to be expensive either. Dual Electronics sells a pair of speakers for about $60.
If you're like me, you might have started looking for wireless speakers, but the sound quality is not as good – plus you pay more. If you can, go for the wired version. You'll be happier with the sound and it's a way better deal.
That said, the wireless version is more versatile because it is portable and doesn't require the hard wiring set up.

Decide what meets your needs best. If audio performance is less important than portability, then wireless may be your best option.
Polk Audio (shown on the right) makes a set of 80-watt outdoor wireless speakers. These speakers put out great sound for their small size, plus they even work in rain.
Keep in mind that some projectors include built-in speakers, like the Optoma HD26. This means that you don't have to purchase external speakers unless you want to.

Another Note: this projector can also be used indoors or outdoors.
A larger backyard theater usually demands louder audio than indoors in a living room. However, you may want to test out the built-in speakers before purchasing external add-ons to see if you even need them.
And instead of purchasing a movie player, you can simply attach your laptop computer or tablet to virtually any projector. By cutting out this expense, you can put the money saved towards your projector.

The All-in-One Backyard Movie Theater
On the other hand, you may want an easy, "turn-key" outdoor movie theater package that includes everything you need. Plus, a large one that can entertain a large group of friends.
This option tends to cost more, but you can get a giant movie screen (9′ size or 16′ size), an impressive sound system, a WIFI blu-ray player and a super-bright, high-contrast Optoma projector.
Do you entertain a lot or plan on using your home movie theater for multiple activities like X Box, Wii, movies, TV, presenting slide shows and home videos, etc..? Then, you'll appreciate having a high-quality system with HD, great sound, electric-powered screen. Plus, you get quick and easy set-up.
Keep in mind that packages also usually include all the connecting audio and video cables you need, stands for the screens, remote controls and more. These smaller items can add up when purchased separately.
Plus, multi-part packages typically come with set-up instructions – maybe the most priceless part of all!
I like this one from Backyard Theater Systems better because you can use it indoors as well as outside. Connect it your Wii, play video games and even display slide shows from your computer.
Here's a quick run-down of the easy set-up process:
Find out more here