Why Do I Like It?
The Optoma HD26 Home Theater Projector offers a great value. It is a high-quality, well-made device that can do a lot of things – however, it still maintains a reasonable price tag.
So What's So Great About It?

1. Built-In Speakers:
A major pro that comes with this projector is that it comes with built-in speakers – and they are good. This, of course, can save you a couple hundred dollars right there (plus the time and effort spent shopping for and hooking up speakers).
But what if you want to hook up external speakers to create surround sound for your home theater? No problem! There is an Audio-Out outlet in the back of the device where you simply plug in the audio cable to the speakers. Done!
2. Video Looks Great, Even with Ambient Light:
The HD26 has adjustable brightness, so the room doesn't have to be completely dark for everyone to enjoy a movie (3200 lumens bright image with a 25,000:1 contrast ratio).
Another benefit to this customizable setting is that you can use the "lower light" setting in a dark environment, and this will enable you to extend the life of your bulb, another cost saving feature. Lights have up to 6500 hours of lamp life.
3. It's Quiet:
The last thing you want to listen to when enjoying your favorite movie is… a noisy projector fan. If you've shopped around at all, you've probably noticed that some cheaper brands offer lots of great features, but the projector is far from quiet.
Trust me, you will hate yourself in the morning if you choose a device that makes a lot of noise during the movie. Check customer reviews of different products as you comparison shop to make sure you're not getting a loud one.
Click here to see more
4. It Saves Users Money By Being Green:
These machines are designed specifically to use 75% less power when in standby mode, plus they automatically shut down when not in use. The materials are eco friendly, plus they are designed to last longer so they create less waste.
(Do you notice a cost-saving trend with this projector? I really like how Optoma is so forward-thinking in their product development.)
5. The HD26 is Friends with Everyone:
Whether you want to watch movies in 3D or connect with a Blu-ray 3D player, Xbox, PS3, PS4 or other gaming consoles, this projector does it all. Connect your phone, tablet, laptop computer, camera, camcorder and more. Watch family home videos, a photo slideshow, surf the internet, talk on Skype, etc…
When you can use it for so many activities, Optoma offers lots more value for the money.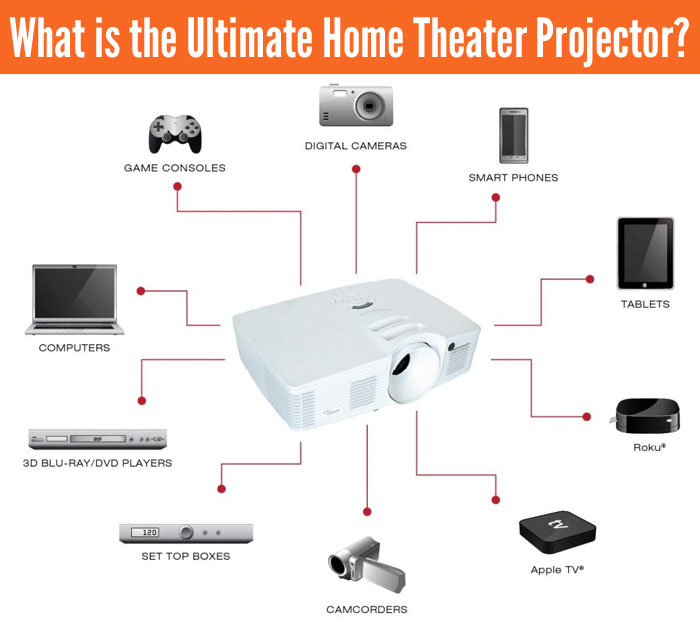 Optoma HD26 Home Entertainment Projector
Specs:
Full HD 1080p resolution (sharp and clear)
2x HDMI ports
MHL enabled HDMI port (to connect with phones & tablets)
Up to 300-inch diagonal image
Maximum Resolution: WUXGA (1920 x 1200)